How Our Service Works
The Dent Guy is a MOBILE SERVICE company! We travel to your private resident or place of business DEPENDING on the location as well as your schedule and our day in your particular area. We are by appointment only basis  AND Do not have a "shop ".Our clients may also arrange to meet The Dent Guy at our  home location in Sewell, NJ or alternative location(s) for even faster service, which include services areas from the South Jersey shore points to Delaware river and many areas in between  . Please be sure to let The Dent Guy know what the most convenient location is for you. We will do our best to accommodate your requests and make our clients experience effortless.
"Same day turnaround. Most dings and dents are completed in under an hour..or less!"
Paintless Dent Removal – How the Process Works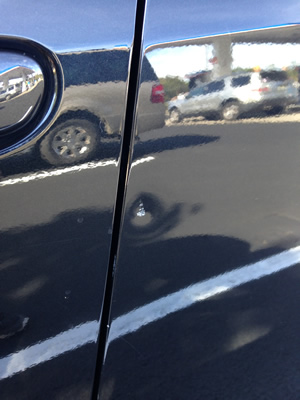 The Dent Guy uses specialized tools which massages and manipulates the body of the vehicle back into its original design. Depending on the location of the dent or ding, the panel is accessed by removing the trim pieces through the window openings of the vehicle or by removing the inner panels of the vehicle.
Paintless Dent Removal Services – Who We Service
The Dent Guy services dealerships, insurance companies, body shops, and retail clients. The Dent Guy repairs dings and dents damage resulting from shopping cart, golf balls, baseballs, and softballs just to name a few. In addition The Dent Guy also specializes in repairing Hail damage and creases.
How Our Service Works – It's Quick, Easy, and Affordable
One  simple step:
–Complete our free estimate form on The Dent Guy's webpage or call 856-625-8567
PLEASE READ BELOW BEFORE SUBMITTING ANYTHING!
PLEASE Upload pics if you can !! Without pics  we wont come out to see the damage unless its very minor or wont show in a picture . Sometimes its difficult but it helps us determine cost and if we can help you in your repair If you cant send pics just submit email stating that and describing the damage best you can .
PLEASE BE AS ACCURATE AND REALISTIC As you can !.We can only estimate a  general ball park so it helps determine if its affordable for you !
-We will contact you within 1-5 business days. Most are within 24 hours. Please don't call after hours or Sundays as we wont answer and you can only leave a message. Emails are BEST with  all your information and pictures.
If for some reason we don't contact you back via email please try calling as some emails are simply lost through the web or not seen .Please see before and after pics  and pics of vehicles we cant repair.
We ARE NOT A BODYSHOP!!!
We don't do cracked bumpers , painting , Major dent and  ding that is very sharp . NO  installation  of body parts like bumpers or mirrors etc. Side swipes and major damage from accidents, are NOT Accepted and will be ignored through email. Generally Paint should be intact and may only require light touchup .
Also we get many calls with Stainless steel fridge doors. These can only be repaired if they arent sharp and are more subtle and round. Nothing deep or larger then a quarter . When in doubt send us a email and picture,We will try to answer you back asap.
-The Dent Guy will provide a convenient location and time to repair your vehicle.
In a matter of hours or less, your vehicle will look like new!
"The Dent Guy is a mobile service. We come to you, saving you time and money!"
How Much Does PDR Cost?
Prices can vary depending on the location on the vehicle, amount of damage and complexity of the dents and dings. Also it depends on where we are traveling to you as well .
Also its normally 25% more for any high strength  steel or aluminum panels as they are harder to work with . Also many time damage falls on a braced area that impede our technique . The harder it is to repair the more the estimate will be . Generally anything "sharp " is more because its harder to repair.
Rough ballpark estimates are as followed
Depending where are located and severity ..etc
Penny to dime size dings or less are generally $150-200
Nickel to quarter size dings are $225-275 .
Half dollar dings are $275-300
Baseball size start at $300 up .
creases and bodylines are generally priced per inch and severity .
We may work discounts with extra panels but again need to see where the are located and severity on the vehicle
Compared to traditional auto body repair, Our  techniques will be  less and faster turn around time instead  The Dent Guy's PDR or "paintless dent removal" techniques are assured to be much more affordable.
We Repair Motorcycles
The Dent Guy also repairs motorcycle fenders and gas tanks depending on how severe or sharp the damage may be. Some tanks need to be removed off the bikes because there is no way to acess the dent through the top. All tank repairs are not repairable .The larger the damage or sharper the damage will make it harder or impossible to repair the dent/ding  Send PICS!!!
What Paintless Dent Removal Can Not Fix
The Dent Guy receives hundreds of inquires with vehicles damaged by minor accidents.  this type of damage is severe and needs a body shop. We suggest to complete our "free estimate" form to include a picture for which The Dent Guy can accurately assess the damage and can help determine if PDR is the right choice for your vehicle.
In general the SHARPER or the larger the damage is the harder it is to be repaired by the Paintless Dent Removal method. In addition, even the smallest ding can be difficult to repair due to the sharpness and/or accessibility to the damage. In other words, The Dent Guy must be able to access the damage with our specialized tools in order to remove the damage through Paintless Dent Removal.